Back to Quiksilver Pro France Surf Contest ...
ASP WORLD TITLE CONTENDERS advance INTO ROUND three of the Quiksilver Pro France Surf Contest
Quiksilver Pro France Surf Contest: Day 3 Heat of the Day Kelly Slater, Fred Patachia and Artiz Aranburu.

HOSSEGOR, France (Sunday, Sept. 23, 2007) – The Top 5 rated surfers on the Foster's ASP World Tour have advanced to Round 3 of the Quiksilver Pro France Surf Contest, but Taj Burrow (AUS), Andy Irons (HAW) and Joel Parkinson (AUS) had to negotiate Round 2 before earning their berths today. Heats 7-12 of Round 1 and Heats 1-6 of Round 2 were run in favorable six foot (two metre) conditions at La Graviere.
Reigning World Champion Kelly Slater and current World No. 1 Mick Fanning (AUS) made things less stressful on themselves when they won their Round 1 heats.
Slater trailed wildcard Aritz Aranburu (ESP) for most of the heat, but posted a 9.43 at the end of their clash to defeat him and Fredrick Patacchia (HAW).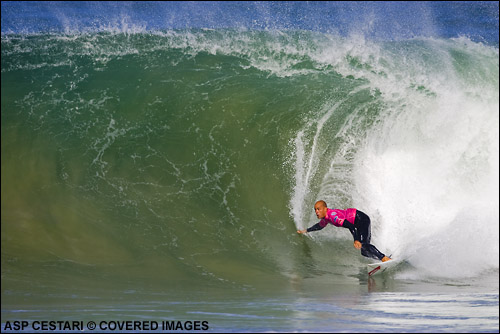 Kelly Slater Quiksilver Pro France Round 1. Photo Credit ASP Media
"There are some amazing waves out there today, someone's going to score a 10.0 today," Slater said. "I couldn't quite find them and I didn't quite squeak out of a few of the ones I did have. I was playing catch up most of that heat."
Fanning scored a 10.00 at the exact moment Slater made that comment and backed it up with a 9.43 to post an impressive 19.43 out of 20.00 heat total.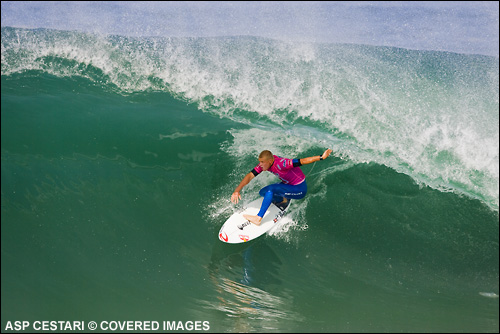 Mick Fanning Quiksilver Pro France Surf Contest Round 1. Photo Credit ASP Media

"I saw the wave before the one I caught and it was nice," Fanning said. "Then I saw mine coming, I was just thinking how I had to get into that wave. I got into and saw the line just race off, I just pumped out as hard as I could and it let me out, I was stoked."
World No. 7 Bede Durbidge (AUS) scored a Perfect 10 in Round 2, but still came up short against Mark Occhilupo (AUS). The tour veteran won his first heat since Bells Beach, Australia today.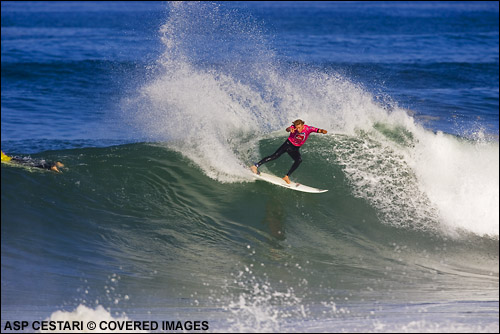 Bede Durbidge Quikslilver Pro France Surf Contest Round 1. Photo Credit ASP Media
"Bede has been on such a roll, and I've been having such bad luck," Occhilupo said. "When he was paddling for his 10.0, I knew it was going to be a 10.0. Somehow I just got lucky and got a wave, so it's a happy days for me. At least it ended my streak of bad luck so I'm pretty stoked to get through that pretty tight heat."
Occhilupo, the 1999 World Champion, was emotional with the win.
"I'd lie if I didn't say I had a tear in my eye," Occhilupo said. "Twenty years I've been competing and that's the worst run I've had, so obviously I had a bit of emotion there. I'm just stoked. I've been really concentrating on this event and really trying my best. It seemed to pay off."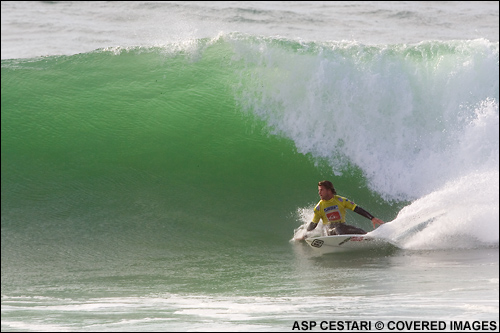 Occy Quiksilver Pro France Surf Contest Round 1. Photo Credit ASP Media
Parkinson, the defending Quiksilver Pro Champion, overcame Gabe Kling (USA) 15.10 to 10.84 in Round 2 after finishing 3rd in his Round 1 heat held two days ago.
"I was definitely relieved to make it through that round, I hate the second round," Parkinson said. "That's the stressful part of our job and I'm glad its over.
Dropping to 5th on the ratings after losing in Round 2 at the last Foster's ASP World Tour event in California, Parkinson was relieved with his win at La Graviere.
"That event was a year ago," Parkinson said. "But I definitely need to draw on the confidence I had last year. I don't think I found it out there then, but that's what I was trying to think about. The determination was 100%, but the confidence just didn't show yet."
World No. 3 Taj Burrow barely scraped through his heat against Marlon Lipke (DEU), the first ever German surfer to compete in a Foster's ASP World Tour.
"I knew if I lost that one that my hopes would be all over for finishing No. 1 on the World Tour," Burrow said. "I'm just going to have to improve from here."
Former Foster's ASP World Tour surfer and Quiksilver Pro France Surf Contest wildcard Mikael Picon (FRA) beat Burrow in Round 1. French fans erupted in cheers when Picon posted one of the day's highest scores, a 9.83, for a deep barrel.
"The first wave I dropped in on, the sun was in my eyes and I couldn't really see the lip – I just grabbed the rail and said I'm not going to fall." Picon said. "I've been surfing everyday here and down south since I found out that I got the wildcard and that paid off. It's weird, when I was on the World Tour I never won a heat."
3X Quiksilver Pro France Surf Contest winner Irons tied Picon's 9.83 in Round 2 when he emerged from a seemingly un-makeable barrel.
"The conditions were pretty touch and go," Irons said. "The tide got really high and there were not many good scoring waves out there. I think I had a 3.0 and a 4.0 with eight minutes to go and Aritz had some big scores in the first round so I knew it would be hard."
Another call on competition status will be made tomorrow morning at 8:00. There is a strong likelihood Heat 7 of Round 2 will kick off soon thereafter.
Today's Quiksilver Pro France Surf Contest Round 2 Heat Results
Heat 1: Andy Irons (HAW) 16.16 def. Aritz Aranburu (ESP) 6.50
Heat 2: Taj Burrow (AUS) 9.30 def. Marlon Lipke (DEU) 8.73
Heat 3: Joel Parkinson (AUS) 15.10 def. Gabe Kling (USA) 10.84
Heat 4: Mark Occhilupo (AUS) 15.67 def. Bede Durbidge (AUS) 15.50
Heat 5: Dean Morrison (AUS) 14.16 def. Tim Reyes (USA) 12.07
Heat 6: Victor Ribas (BRA) 11.00 def Taylor Knox (USA) 8.70
Today's Quiksilver Pro France Surf Contest Round 1 Heat Results:
Heat 5: Cory Lopez (USA) 11,27, Gabe Kling (USA) 10.83, Bede Durbidge (AUS) 9.50
Heat 7: Mikael Picon (FRA) 12.60, Kai Otton (AUS) 10.80, Taj Burrow (AUS) 7.50
Heat 8: Kelly Slater (USA)17.76, Aritz Aranburu(ESP) 17.27, Fredrick Patacchia (HAW) 5.50
Heat 9: Mick Fanning (AUS) 19.433, Michael Campbell (AUS) 7.38, Marlon Lipke (DEU) 1.33
Heat 10: Michel Bourrez (PYF) 12.27, Andy Irons (HAW) 11.17, Ben Dunn (AUS) 8.77
Heat 11: Neco Padaratz (BRA) 13.50, Jeremy Flores (FRA) 11.60, Raoni Monteiro (BRA) 5.60
Heat 12: Leonardo Neves (BRA) 11.30, Tom Whitaker (AUS) 7.07, Victor Ribas (BRA) 3.17
Heat 13: Rodrigo Dornelles (BRA) 10.33, Daniel Wills (AUS) 9.50, Michael Lowe (AUS) 4.77
Heat 14: Royden Bryson (ZAF) 15.53, Shaun Cansdell (AUS) 10.40, Chris Ward (USA) 9.40
Heat 15: Phillip MacDonald (AUS) 14.83, Bruce Irons (HAW) 12.83, Greg Emslie (ZAF) 3.80
Heat 16: C.J. Hobgood (USA) 10.14, Bernardo Miranda (BRA) 7.74, Troy Brooks (AUS) 6.87
Remaining Quiksilver Pro France Surf Contest Round 2 Match-Ups:
Heat 7: Pancho Sullivan (HAW) vs. Michael Lowe (AUS)
Heat 8: Jeremy Flores (FRA) vs. Shaun Cansdell (AUS)
Heat 9: Tom Whitaker (AUS) vs. Greg Emslie (ZAF)
Heat 10: Daniel Wills (AUS) vs. Bernardo Miranda (BRA)
Heat 11: Chris Ward (USA) vs. Troy Brooks (AUS)
Heat 12: Bruce Irons (HAW) vs. Raoni Monteiro (BRA)
Heat 13: Fred Pattachia (HAW) vs. Josh Kerr (AUS)
Heat 14: Michael Campbell (AUS) vs. Luke Stedman (AUS)
Heat 15: Ben Dunn (AUS) vs. Adrian Buchan (AUS)
Heat 16: Kai Otton (AUS) vs. Adriano de Souza (BRA)
Quiksilver Pro France Surf Contest LIVE on www.aspworldtour.com and www.quiksilverlive.com
ASSOCIATION OF SURFING PROFESSIONALS (ASP) MEDIA