Back to Quiksilver Pro France Surf Contest...
Quiksilver Pro France Surf Contest ROUND 2 STOPPED AFTER FIRST HEAT
Quiksilver Pro France Surf Contest : Day 4 Highlights

HOSSEGOR, France (Monday, Sept. 24, 2007) –Only one heat of Quiksilver Pro France Surf Contest competition was held this morning before the wind swung onshore and immediately deteriorated conditions. The next heat, which was to feature France's Jeremy Flores and Australia's Shaun Cansdell, was called off along with the remainder of competition for the day.
Pancho Sullivan (HAW), who entered the Quiksilver Pro France Surf Contest fresh off a Semifinal finish at the Foster's ASP World Tour event in California earlier this month, beat Mick Lowe (AUS) in the trying surf at La Graviere.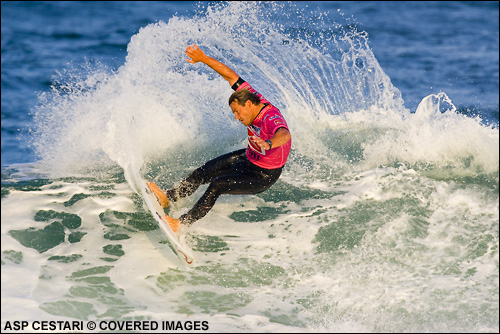 Pancho Sullivan Quiksilver Pro France Surf Contest 2007. Photo Credit ASP Media
"The waves looked really good out there before the heat, so I was pretty excited to surf," Sullivan said. "Then within a matter of minutes the wind came onshore and I think the tide was bottoming out and it just tore that sand bar to bits. Unfortunately we were underway already so there was nothing we could do but surf out the heat."
Lowe led the heat with five minutes to go, but relinquished his lead to Sullivan at the end of the heat.
"I definitely didn't feel like I put on a strong performance, but sometimes you've just got to compete and try and squeeze through," Sullivan said. "I'm definitely happy to live and fight another day. I know that the forecast doesn't look great as far as the conditions but at least the swell will be bigger and those are the conditions that I really thrive on. Hopefully just getting through will give me a bit of momentum."
According to Ben Matson, of swellnet.com, the official surf forecaster of the Quiksilver Pro, there is a significant swell forecasted for the next couple of days, but the winds are expected to be unfavorable.
"A succession of powerful swells are expected to provide large surf at Hossegor on Tuesday and Wednesday," Matson said.
Event organizers are currently entertaining ideas about taking the event mobile should that be necessary. The next call on competition status will be made tomorrow morning at 8am at La Nord.
Today's Quiksilver Pro France Surf Contest Round 2 Result:
Heat 7: Pancho Sullivan (HAW) 10.07 def. Michael Lowe (AUS) 9.17
Remaining Quiksilver Pro France Surf Contest Round 2 Match-Ups:
Heat 8: Jeremy Flores (FRA) vs. Shaun Cansdell (AUS)
Heat 9: Tom Whitaker (AUS) vs. Greg Emslie (ZAF)
Heat 10: Daniel Wills (AUS) vs. Bernardo Miranda (BRA)
Heat 11: Chris Ward (USA) vs. Troy Brooks (AUS)
Heat 12: Bruce Irons (HAW) vs. Raoni Monteiro (BRA)
Heat 13: Fred Pattachia (HAW) vs. Josh Kerr (AUS)
Heat 14: Michael Campbell (AUS) vs. Luke Stedman (AUS)
Heat 15: Ben Dunn (AUS) vs. Adrian Buchan (AUS)
Heat 16: Kai Otton (AUS) vs. Adriano de Souza (BRA)
LIVE on www.aspworldtour.com and www.quiksilverlive.com
ASSOCIATION OF SURFING PROFESSIONALS (ASP) MEDIA