Back to Quiksilver Pro France Surf Contest...
QUIKSILVER PRO FRANCE SURF CONTEST THROUGH ROUND 2, LOCAL JEREMY FLORES PREVAILS
Quiksilver Pro France Surf Contest: Day 5 Highlights

HOSSEGOR, France (Tuesday, Sept. 25, 2007) –The last nine heats of Round 2 of the Quiksilver Pro France Surf Contest were wrapped up at a mobile event site in nearby Capbreton today. The first six heats of Round 2 were run on Sunday at La Graviere, Heat 7 was run before conditions deteriorated yesterday, and the final eight heats were held in four to six foot (one to two metre) waves at a beachbreak known as Santosha this morning.
Jeremy Flores (FRA) beat Australian Shaun Cansdell in the first heat of the day. Flores admitted to having some local knowledge under his belt.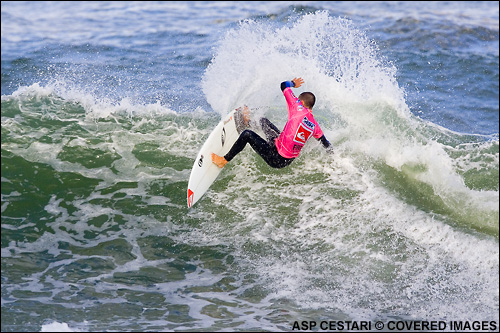 Jeremy Flores (Fra) defeated Shaun Cansdell (Aus) in Round Two this morning at the Quiksilver Pro France Surf Contest. Photo Credit ASP Media
"I've been surfing this wave since I was 8-years-old, so I kind of know where the breaks are good," Flores said. "I think that Shaun might have stayed in the middle too much, but he still got some pretty good waves, he's a very talented surfer. He won the biggest WQS event here in Hossegor, so I knew it was going to be a very hard heat. I just went out there and thought about my heat and nothing else."
Flores, the only European surfer on the 2007 Foster's ASP World Tour, has had a beach full of expectations to exceed and is feeling the weight.
"I do feel a little bit of pressure surfing here, Flores said. "Everyone is expecting me to win, which is okay… I'm just trying to do my best. I've had a good year so far so it's just a bonus every heat after. Every heat I make I still feel like I'm learning. That's what I have to keep in my mind and not to get too nervous. It's exciting for me this whole experience, and to be here in front of my home crowd. I'd love to get a good result here to give back."
Josh Kerr's (AUS) result was the highest of Round 2. Kerr is famous for the aerial prowess he let fly today – his two huge aerial maneuvers heralded two huge scores, an 8.67 and 9.67.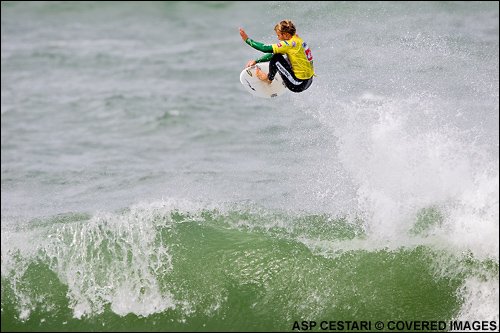 Josh Kerr big air Quiksilver Pro France Surf Contest. Photo Credit ASP Media
"I did an alley-oop the wave before my 9.67 and the judges rewarded me with a good score," Kerr said. "I had had a slow heat before that wave. I knew they were my kind of conditions out there and I wanted to try and prove that. The next wave probably had the best ramp section I've had in a long time, I just tried to go huge and I pulled it so I'm stoked."
Raoni Monteiro (BRA) was another standout performer today. Monteiro was beating Bruce Irons (HAW) well before he sealed the deal with a 9.00 ride at the end of their heat.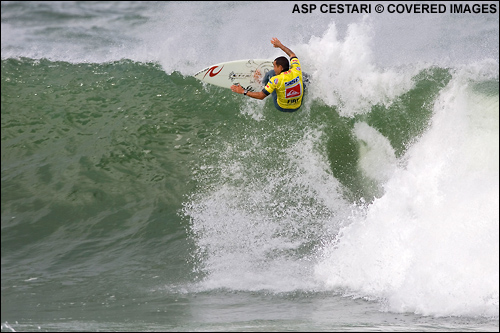 Raoni Monteiro Quiksilver Pro France Surf Contest. Photo Credit ASP Media
"I was trying to focus that heat on catching a good wave," Monteiro said. "I had three good waves with three good scores. I got a 9.0 on my last wave so that really helped me. I feel really good right now because Bruce Irons is a really good surfer. It's really hard to beat those guys. I'm just really happy."
Kai Otton (AUS) eliminated Adriano de Souza (BRA) in the final heat of the round. Round 3 competition was called off just prior to Heat 16 of Round 2 paddling out.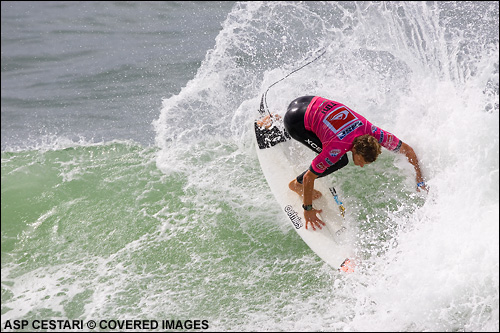 Kai Otton Quiksilver Pro France Surf Contest. Photo Credit ASP Media
"The contest director came up to me right before the heat and asked if I wanted to surf," Otton said. "It looked pretty bad and I wanted to surf over at La Graviere the next day, so I was thinking about calling it off. Adriano already had his rash guard on and wanted to go so I was like, 'we'll just do it'. Lucky enough I just got little one under priority and it was a pretty good score."
Otton is currently rated 18th, and is the second highest rated rookie after Flores who sits in 9th. Both are gunning for ASP 'Rookie of the Year' honors.
"That 'Rookie of the Year' title is one of my goals still," Otton said. Jeremy and I were pretty close but then he got away at Trestles so he put a bigger gap on us. I hope to just keep making heats and give myself a chance. Anything can happen going into Pipeline, so we'll just have to see what happens."
A call on Round 3 will be made at 8am at La Nord tomorrow. Heat 1 will feature Australians Joel Parkinson versus Mark Occhilupo.
Today's Quiksilver Pro France Surf Contest Round 2 Results:
Heat 8: Jeremy Flores (FRA) 14.00 def. Shaun Cansdell (AUS) 11.60
Heat 9: Greg Emslie (ZAF) 14.34 def. Tom Whitaker (AUS) 12.23
Heat 10: Bernardo Miranda (BRA) 14.67 def. Daniel Wills (AUS) 10.17
Heat 11: Troy Brooks (AUS) 15.16 def. Chris Ward (USA) 7.83
Heat 12: Raoni Monteiro (BRA) 17.00 def. Bruce Irons (HAW) 8.03
Heat 13: Josh Kerr (AUS) 18.34 Fred Pattachia (HAW) 10.23
Heat 14: Luke Stedman (AUS) 16.27 def. Michael Campbell (AUS) 14.93
Heat 15: Adrian Buchan (AUS) 11.40 def. Ben Dunn (AUS) 10.60
Heat 16: Kai Otton (AUS) 15.60 def. Adriano de Souza (BRA) 9.97
Upcoming Quiksilver Pro France Surf Contest Round 3 Match-Ups:
Heat 1: Joel Parkinson (AUS) vs. Mark Occhilupo (AUS)
Heat 2: Cory Lopez (USA) vs. Phillip Macdonald (AUS)
Heat 3: Adrian Buchan (AUS) vs. Royden Bryson (ZAF)
Heat 4: Taj Burrow (AUS) vs. Trent Munro (AUS)
Heat 5: Pancho Sullivan (HAW) vs. Victor Ribas (BRA)
Heat 6: Jeremy Flores (FRA) vs. Greg Emslie (ZAF)
Heat 7: Josh Kerr (AUS) vs. Raoni Monteiro (BRA)
Heat 8: Kelly Slater (USA) vs. Michel Bourrez (PYF)
Heat 9: Mick Fanning (AUS) vs. Mikael Picon (FRA)
Heat 10: Ricky Bassnett (ZAF) vs. Leonardo Neves (BRA)
Heat 11: Bobby Martinez (USA) vs. Neco Padaratz (BRA)
Heat 12: C.J. Hobgood (USA) vs. Bernardo Miranda (BRA)
Heat 13: Andy Irons (HAW) vs. Luke Munro (AUS)
Heat 14: Luke Stedman (AUS) vs. Rodrigo Dornelles (BRA)
Heat 15: Dean Morrison (AUS) vs. Dayyan Neve (AUS)
Heat 16: Kai Otton (AUS) vs. Troy Brooks (AUS)
LIVE on www.aspworldtour.com and www.quiksilverlive.com
ASSOCIATION OF SURFING PROFESSIONALS (ASP) MEDIA