Back to Quiksilver Pro France Surf Contest...
No Quiksilver Pro France Surf Contest ROUND three today. FIAT EXPRESSION SESSION to run at 11 AM
HOSSEGOR, France (Wednesday, Sept. 26, 2007) – The Quiksilver Pro France Surf Contest, stop No. 7 of 10 on the Foster's ASP World Tour, will not run today. Three to five foot (one plus metre) peaky conditions have prompted Contest Director Rod Brooks to send out a FIAT Expression Session at 11am.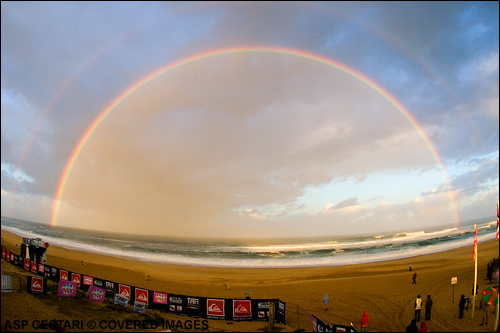 Rainbows all round, big swell too but no Quiksilver Pro France Surf Contest today. 11AM Fiat Expression Session. Photo Credit ASP Media
"Today we will be running the FIAT Expression Session which offers $10,000 dollars prize money," Brooks said. "We're waiting for low tide when the waves get a lot bigger, and peakier out the front. We've got some jet skis coming around to tow the surfers out into the big outside peak. We're expecting some big airs and exciting maneuvers, because the wind will be sideshore. Sideshores you don't tend to get good barrels, or very good conditions for competition, but you get really good conditions for an air show. So we're having a specialty event today and it should be fun!
When Round 3 resumes World No. 5 Joel Parkinson (AUS) will take on the legendary Mark Occchilupo (AUS) in Heat 1.
LIVE on www.aspworldtour.com and www.quiksilverlive.com
ASSOCIATION OF SURFING PROFESSIONALS (ASP) MEDIA
APS WCT Tour 2010 Schedule
Mens's Division
Quiksilver Pro Gold Coast
Feb 27-Mar 10, Gold Coast Qld-Australia
Rip Curl Pro Bells
March 30 -April 10, Bells Beach Victoria-Australia
Hang Loose Santa Catarina Pro
April 23-May 2, Santa Catarina Brazil
Billabong Pro J-Bay
Jly 15-25, Jeffreys Bay South Africa
Billabong Pro Teahupoo
Aug 23 - Sept 3, Teahupoo Taiarapu-Tahiti
Hurley Pro Trestles
Sep 12-21, Trestles California-USA
Quiksilver Pro France
Sep 25-Oct 5, South West Coast France
Rip Curl Pro
Oct 7-18, Peniche, Portugal
Rip Curl Pro Search
Oct 30-Nov. 10 - Somewhere?
Billabong Pipeline Masters
Dec 8-20, Banzai Pipeline Oahu-Hawaii
Women's Division
Roxy Pro Gold Coast
Feb 27-Mar 10, Gold Coast, Queensland, Australia
Rip Curl Women's Pro Bells
Mar 30-April 10, Bells Beach Victoria, Australia
TSB Bank Women's Surf Festival
Apr 11-16 Taranaki – New Zealand
Commonwealth Bank Beachly Classic
Apr 21-26, Dee Why,Northern Beaches, NSW-Australia
Movistar Peru Classic presented by Rip Curl
June 8-13, Lobitos-Peru
Rip Curl Pro
Oct 7-11, Peniche-Portugal
Rip Curl Search
Oct 30-Nov 4, Somewhere
Gidget Pro
Nov 24-Dec 6, Sunset Beach Oahu, Hawaii
Billabong Pro Maui
Dec 8-20 Honolua Bay, Maui, Hawaii