Back to Quiksilver Pro France Surf Contest...
KELLY SLATER AND ANDY IRONS LOSE IN ROUND OF THE QUIKSILER PRO FRANCE SURF CONTEST
Quiksilver Pro France Surf Contest Day 7 Highlights Video

HOSSEGOR, France (Thursday, Sept. 27, 2007) – Today's Quiksilver Pro France Surf Contest competition saw the whole of Round 3 and the first heat two heats of Round 4 completed in four to six foot (one to two metre) surf at La Graviere. Foster's ASP World Title contenders and former World Champions Kelly Slater (USA) and Andy Irons (HAW) made Round 3 exits while Mick Fanning (AUS), Joel Parkinson (AUS) and Taj Burrow (AUS) advanced to Round 4 and beyond.
Parkinson, the defending Quiksilver Pro France Surf Contest champion, earned himself a Quarterfinal berth when he eliminated Phil Macdonald (AUS) in the first heat of Round 4 – the second to last heat of the day.
"I went down after Phil caught that first one, down toward the end to try and find couple that I had seen before when I was watching," Parkinson said. "Priority isn't something you really want to have out there, you want to be moving a lot and getting a lot of waves so I just tried to do that."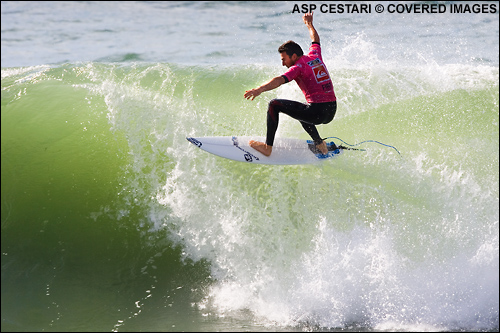 Joel Parkinson Advances From Round Four to Face Taj Burrow in The Quiksilver Pro France Surf Contest Quarter Finals. Photo Credit ASP Tostee
Parkinson is currently rated World No. 5 and should gain ground on Irons and Slater in the race for his maiden World Title now that he is through to the Quarters. Still, he's hesitant to think about the ratings too much.
"It's hard to think about that, you don't want to," Parkinson said. "It's screwed with me a few times before. I just need to take heat by heat."
Current World No. 3, Burrow, will meet Parkinson in Quarterfinal 1 after his Round 4 victory in the last heat of the day. His win over South Africa's Royden Bryson (ZAF) was the most convincing of the victories he's had thus far at the Quiksilver Pro.
"I felt a lot better after that heat just because I felt like I surfed better and won the heat a little bit more convincingly that the other ones for sure," Burrow said. "I just spent a little time warming up, I have kind of a sore knee, but it's feeling good now. I've never had to deal with a sore knee before and it has been kind of toying with my confidence, at Lowers especially. It's hard to get you head to want it to go different directions, but it's feeling a lot better now. Even my first few heats here I was just a little bit tentative, not just really confident. I've been free surfing as much as I can to get my knee feeling good. That heat made me feel like it was working properly.
Burrow is the only surfer with two wins in his scoreline and, as a two-time World Title runner-up, is really hoping to take it all the way this year.
"I've got my eyes on the number one position for sure, and I couldn't help but smile a little bit when Slater and Andy Irons went down," Burrow said. "But still, it's not even worth worrying about what everyone else is doing, it's just try to do your own thing really. I'm just totally focused on winning another contest."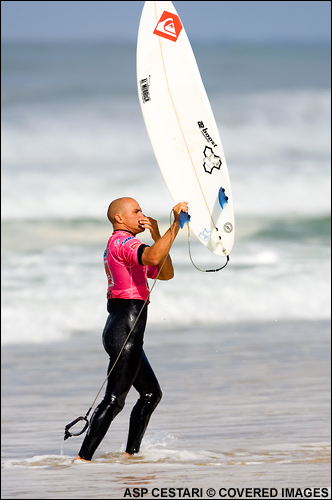 Eight-time World Champion Slater's exit was shown to him courtesy of Tahitian wildcard Michael Bourez. Slater posted an uncharacteristically low heat total of 9.13 after failing to find a 6.18 scoring ride even though there were 10 minutes left on the clock. Bourez advanced and will now meet Raioni Monteiro (BRA) in Round 4.
"I just feel great, it's amazing, I just did my job today, that's it," Bourez said. "I felt pretty lucky because the conditions weren't that good and it was really hard to catch good waves. I was just waiting and waiting for the good ones. I'm just so happy. Beating Kelly Slater was definitely the biggest thing that has ever happened to me, for sure."
Current ratings leader Fanning beat former Top 45 competitor and wildcard Mikael Picon (FRA) just after Slater was eliminated by Bourez.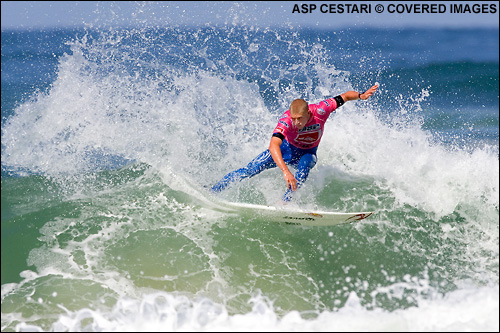 Mick Fanning Advances Out of Round Three at The Quiksilver Pro France Surf Contest. Photo credit ASP Media
"Yeah, that was a pretty big heat," Fanning said. "It's tricky going up against wildcards, especially at their home break. I saw Mikael catch that last wave and heard the crowd go crazy, I was just lucky time had ran out. The wave looked perfect for him. I just plan to keep the ball rolling. I tried to get a busy start out there and improve on every wave I caught, just trying to get the job done. I'll continue to just surf heat but heat."

The day's highest heat total, 15.67 out of 20.00 went to Neco Padaratz, who along with fellow Brazilians Raoni Monteiro, Bernardo Miranda, and Rodrigo Dornelles, will now feature in Round 4. Both Padaratz and Miranda scored 9.00 tube rides today.
"My 9.0 was a really great wave," Padaratz said. "I saw the wave coming and just got in it and was covered up, I just felt really lucky. I feel that when you get a good start you gain more confidence for the rest of the heat. I knew I just needed to get a second good wave to top that, because I knew that Bobby would come back."
South African surfers also fared well in Round 3 of the Quiksilver Pro France Surf Contest. Greg Emslie eliminated France's Jeremy Flores, Royden Bryson beat Adrain Buchan (AUS) before losing to Burrow in Round 4 and Ricky Basnett overcame Leonardo Neves (BRA) to break the string of 17th places he's posted in every single event on the 2007 tour until today.
"It feels great to finally get out of the 17ths… I feel like I just won the World Title," Basnett said. "It's pretty tough conditions out there and you really just have to try and get two quick ones under you belt. It worked out for me, so I'm really happy. All of us South Africans are in the fourth round so, we haven't had that for quite a while, hopefully it carries on."
A call on competition status will be made at La Graviere at 8am tomorrow. Heat 3 of Round 4 featuring Pancho Sullivan (HAW) vs. Greg Emslie (ZAF) is up next.
Quiksilver Pro France Surf Contest Round 4 Results:
Heat 1: Joel Parkinson (AUS) 11.27 vs. Phillip Macdonald (AUS) 8.23
Heat 2: Taj Burrow (AUS) 14.17 def. Royden Bryson (ZAF) 11.14
Quiksilver Pro France Surf Contest Round 3 Results:
Heat 1: Joel Parkinson (AUS) 10.33 def. Mark Occhilupo (AUS) 7.33
Heat 2: Phillip Macdonald (AUS) 14.66 def. Cory Lopez (USA) 9.77
Heat 3: Royden Bryson (ZAF) 12.33 def. Adrian Buchan (AUS) 8.84
Heat 4: Taj Burrow (AUS) 10.17 def. Trent Munro (AUS) 6.77
Heat 5: Pancho Sullivan (HAW) 10.50 def. Victor Ribas (BRA) 6.10
Heat 6: Greg Emslie (ZAF) 12.17 def. Jeremy Flores (FRA) 10.67
Heat 7: Raoni Monteiro (BRA) 13.67 def. Josh Kerr (AUS) 8.84
Heat 8: Michel Bourez (PYF) 12.00 def. Kelly Slater (USA) 9.13
Heat 9: Mick Fanning (AUS) 13.06 def. Mikael Picon (FRA) 7.27
Heat 10: Ricky Basnett (ZAF) 14.73 def. Leonardo Neves (ZAF) 12.50
Heat 11: Neco Padaratz (BRA) 15.67 def. Bobby Martinez (USA) 6.80
Heat 12: Bernardo Miranda (BRA) 15.50 def. C.J. Hobgood (USA) 11.67
Heat 13: Luke Munro (AUS) 10.83 def. Andy Irons (HAW) 4.00
Heat 14: Rodrigo Dornelles (BRA) 12.16 def. Luke Stedman (AUS) 8.00
Heat 15: Dayyan Neve (AUS) 13.17 def. Dean Morrison (AUS) 10.87
Heat 16: Troy Brooks (AUS) 11.50 def. Kai Otton (AUS) 5.57
Upcoming Quiksilver Pro France Surf Contest Round 4 Match-Ups:
Heat 3: Pancho Sullivan (HAW) vs. Greg Emslie (ZAF)
Heat 4: Raoni Monteiro (BRA) vs. Michel Bourrez (PYF)
Heat 5: Mick Fanning (AUS) vs. Ricky Basnett (ZAF)
Heat 6: Neco Padaratz (BRA) vs. Bernardo Miranda (BRA)
Heat 7: Luke Munro (AUS) vs. Rodrigo Dornelles (BRA)
Heat 8: Dayyan Neve (AUS) vs. Troy Brooks (AUS)
LIVE on www.aspworldtour.com and www.quiksilverlive.com
ASSOCIATION OF SURFING PROFESSIONALS (ASP) MEDIA