Back to Quiksilver Pro France Surf Contest...
JOEL PARKINSON ELIMINATES TAJ BURROW IN THE QUARTERINALS OF THE QUIKSILVER PRO FRANCE SURF CONTEST
Quiksilver Pro France Surf Contest Day 8 Highlights Video.

HOSSEGOR, France (Friday, Sept. 28, 2007) –Defending Champion Joel Parkinson (AUS) beat World No. 3 Taj Burrow in the Quarterfinals to become one of four surfers through to the Quiksilver Pro France Surf Contest Semifinals today.
Held in three foot (one metre) waves at La Graviere, the 'heat of the day' saw Parkinson and Burrow trade barrels and airs throughout their 30-minute duel.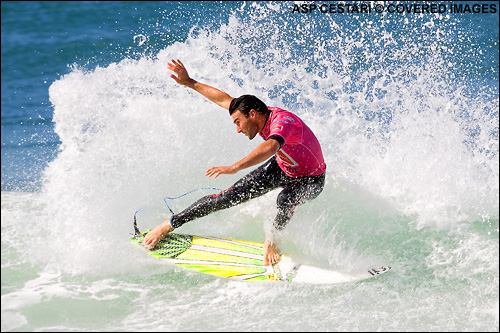 Joel Parkinson Eliminates Taj Burrow in the QuaterFinals of The Quiksilver Pro France Surf Contest. Photo Credit ASP Media.
"Taj put on quite a performance out there, he was on fire," Parkinson said. "I was watching his air reverses from the back and I just kept thinking, 'Oh here we go, he's going to get me again.' I was just lucky to get that really good one that was able to just get me the heat."
Parkinson's 'really good one' was a deep tube followed by a 360 air for a 9.50 ride.

"It was one of the biggest waves to come through this morning and I was in the right spot," Parkinson said. "It looked just like a perfect little Snapper barrel, like at home. It ran off perfect and I just sat there in a perfect little spot and was able to get that little air section at the end."
The early elimination of Burrow, Kelly Slater (USA) and Andy Irons (HAW) has created an opportunity for World No. 5 Parkinson to gain some ground in the ratings.
"I'm where I want to be," Parkinson said. "It'd be better if Mick would have lost also, but heats go on and maybe I'll meet him in the final and have the same result as last year."
World No. 1 Mick Fanning (AUS), who sits on the opposite side of the draw from Parkison, showed no signs of slowing down in his Quarterfinal heat against Neco Padaratz (BRA). Padaratz posted huge scores throughout the early rounds of the event but Fanning's 9.50 and 8.17 wave scores left him needing a combination of excellent wave scores to win.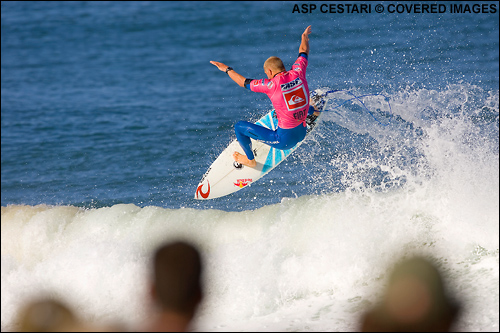 Mick Fanning Quiksilver Pro France Surf Contest. Photo Credit ASP Media
"Neco is a great competitor, he always gives it his all and he has just been surfing great this event," Fanning said. "I think he's had a 9.0 in every heat. I knew he was going to be very tough, especially in these conditions so I was just stoked to get a good start and keep working on that."
Fanning's World Title run has seen him finish in the Quarterfinals or better in five of six events this year. He will meet fellow Australian Troy Brooks in the Semis.
"Yeah Brooks is on the cusp, he's been surfing great, really going for it," Fanning said. "It's going to be fun, he's a good friend too."
Brooks beat Brazil's Rodrigo Dornelles in conditions Brazilian surfers typically thrive in. His upcoming Semifinal berth is the best result Brooks has had on the Foster's ASP World Tour.
"I've had a few quarterfinals, but have never advanced out of them like this one," Brooks said. "To finally do it against Rodrigo, in these waves is pretty exciting."
Brooks is also excited about his upcoming heat against Fanning.
"I'm definitely looking forward to surfing against Mick next heat," Brooks said. "It's always good to go up against the best, because it lifts your surfing as well. Tomorrow we're going to have the pick of the tides and sort of play it by ear, depending on what's happening up and down the beach, so hopefully we'll get the right waves and have a good end to this event."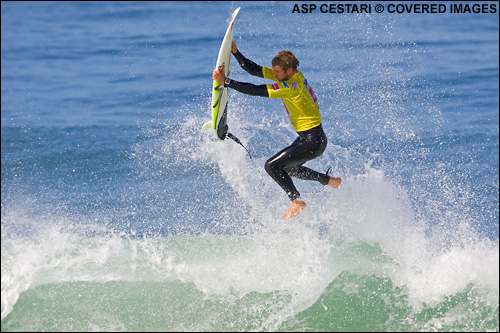 Troy Brooks Quiksilver Pro France Surf Contest. Photo Credit ASP Media
South Africa's Greg Emslie edged out Raioni Monteiro (BRA) in their Quarterfinal clash. Monteiro has surfed extremely well throughout the event, but failed to find the 8.17 he needed to change the situation this afternoon. Emslie advanced out of the Quarterfinals for the second time in his career.
"To win that heat was great for sure," Emslie said. "Each heat I'm just enjoying myself more and more. I'm starting to think about it more in my head. I'm a lot more calm and enjoying myself. I'm stoked to have beaten Raoni, he's been in form. I'm just glad and hope things can continue to go my way."
Emslie, who is currently rated 35th, will meet Parkinson in Semifinal 1. Despite the daunting draw, Emslie is taking it all in stride.
"Once you get down to the quarterfinals and semis I think you just go out there and free surf," Emslie said. "You've got to really blow up to win a contest these days so you can't be going out feeling nervous you have to be pumped and relaxed. That's what I'm going to do, go wait for good waves and free it up."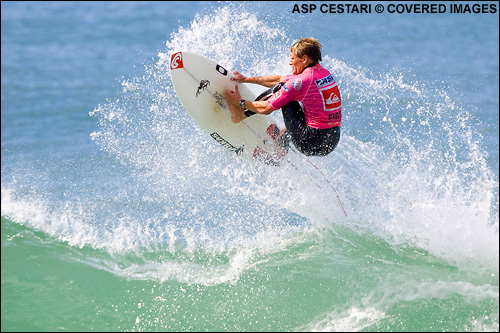 Greg Emslie Quiksilver Pro France Surf Contest. Photo Credit ASP Media
A call on finishing up the final three heats of the event will be made at La Graviere at 11am. The contest will either wrap up tomorrow, Saturday, Sept. 29th or Sunday, Sept. 30th.
Quiksilver Pro France Srf Contest Quarterfinal Results:
Heat 1: Joel Parkinson (AUS) 18.33 def. Taj Burrow (AUS) 16.70
Heat 2: Greg Emslie (ZAF) 14.00 def. Raoni Monteiro (BRA) 10.10
Heat 3: Mick Fanning (AUS) 17.67 def. Neco Padaratz (BRA) 10.66
Heat 4: Troy Brooks (AUS) 11.10 def. Rodrigo Dornelles (BRA) 8.06
Quiksilver Pro France Surf Contest Round 4 Results:
Heat 1: Joel Parkinson (AUS) 11.27 def. Phillip Macdonald (AUS) 8.23
Heat 2: Taj Burrow (AUS) 14.17 def. Royden Bryson (ZAF) 11.14
Heat 3: Greg Emslie (ZAF) 14.50 def. Pancho Sullivan (HAW) 9.16
Heat 4: Raoni Monteiro (BRA) 16.33 def. Michel Bourez (PYF) 6.80
Heat 5: Mick Fanning (AUS) 12.84 def. Ricky Basnett (ZAF) 6.50
Heat 6: Neco Padaratz (BRA) 16.67 def. Bernardo Miranda (BRA) 4.47
Heat 7: Rodrigo Dornelles (BRA) 12.16 def. Luke Munro (AUS) 7.83
Heat 8: Troy Brooks (AUS) 14.84 def. Dayyan Neve (AUS) 10.10
Quiksilver Pro France Surf Contest Semifinal Match-Ups:
Heat 1: Joel Parkinson (AUS) vs. Greg Emslie (ZAF)
Heat 2: Mick Fanning (AUS) vs. Troy Brooks (AUS)
LIVE on www.aspworldtour.com and www.quiksilverlive.com
ASSOCIATION OF SURFING PROFESSIONALS (ASP) MEDIA