Back to SriLankan Airlines Pro Maldives Surf Contest 2007 Event Page...
Heitor Alves Wins SriLankan Airlines Pro Maldives Surf Contest 2007
SriLankan Airlines Pro Maldives Surf Contest 2007 Video Highlights

PASTA POINT, Maldives (Friday, June 8th, 2007) - Super hot and perfect conditions provided the ideal climax to the SriLankan Airlines Pro and Brazil's Heitor Alves took a deserved victory defeating Jarrad Howse from Australia.
In the events six year history Brazilian surfers have always come close but until today have never won this event.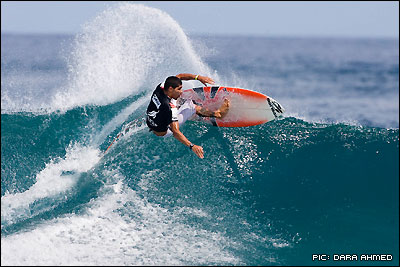 Heitor Alves SriLankan Ailines Pro Maldives Surf Contest 2007. Photo Credit ASP
Cheered on by the large Brazilian contingent at this event, Alves, a small framed and super fast surfer, took the win here convincingly on his final outstanding ride in the last three minutes when he scored an 8.93 to leave his Australian opponent chasing an impossible combination of scores.
The final scoreline saw Alves on 17.26 to Howse on 12.86.
"So happy to win such a magnificent event here in the Maldives. All week we have surfed really good waves and today was perfect for me. I feel like Pasta Point really suits my style and after each heat I was very confident I could get a really good result here. It's great that a Brazilian finally wins here as well!"
For Jarrad Howse it was his second finals performance in the past month and the South Australian born surfer who now resides in Sydney is well on track to requalify for the elite World Championship Tour in 2008.
"It's been another fantastic event here. Obviously I would have like to have won but in the final I never quite found the waves needed to score really big on. No excuses though, the winner has been the form surfer here and he will always be hard to beat in these type of conditions."
Equal third today went to Hawaiian surfer Dustin Barca and Brazil's Pablo Paulino.
South African surfer Jordy Smith now leads the all ASP World Qualifying Series Ratings at the all important mid point of the season. Smith's 5th placing here may well have already secured his place on next seasons ASP Championship Tour.
Others who appear well placed on the ratings after this event appear to be Jarrod Howse, Keiren Perrow, Dane Reynolds and Nathan Hedge.
Once again the SriLankan Airlines Pro in the magnificent Maldives has proved itself to be an amazing event, living right up to it's reputation as the best event on the ASP World Qualifying Tour.
Consistently perfect waves capped off by an incredible final day already sets the scene for next year when the event promises to be back bigger and better than ever.
The Maldives presents SriLankan Airlines Pro is made possible by SriLankan Airlines, Maldives Tourism, Dhonveli Beach & Spa Resort, Dhiraggu Internet and Atoll Travel