Bruce Irons Wins The Rip Curl Pro Search 2008 "Somewhere in Indonesia"
Sunday, August 3, 2008 - Bruce Irons (HAW) has defeated fellow finalist Fredrick Patacchia (HAW) to claim the 2008 Rip Curl Pro Search in rifling four-foot (1.5 metre) lefthanders 'somewhere' in Indonesia.
Stop No. 6 of 11 on the 2008 ASP World Tour, the Rip Curl Pro Search saw a marathon day of action capped off by a stunning barrel shootout finale between the young Hawaiians.
Irons, who took down reigning ASP World Champion Mick Fanning (AUS) and Dream Tour sophomore Ben Dunn (AUS) en route to his Finals berth, came from behind in last 10 minutes of the event, grabbing an 8.33 and a 9.33 to scalp his first ASP World Tour victory.
"One of my goals when I joined the Tour was to win an event and I wasn't sure if it was going to happen since I'll be stepping away after this season," Irons said. "But the waves pumped this event! This is what the Dream Tour should be like all the time. I'm definitely stepping away from the ASP Tour at the end of this year, but I'm not retiring. I'm still planning on competing at Pipeline and Teahupoo and at venues that I can get into."
The progressive natural-footer eased into the Final against Patacchia grabbing small scores before unleashing a fury of backhand tubes and commited re-entries over dry reef to take the win and move into No. 10 on the ASP World Tour ratings.
"I was tripping out in the water when they kept announcing Fred (Patacchia) and I in the Final – you never hear that," Irons said. "It was all business though. This is only the second time I've ever made one on Tour and I wasn't about to let it go. I was trying my hardest out there."
Rip Curl Pro Search 2008 Finals: Bruce Irons 17.66 vs. Fred Patachhia 11.16
Irons maintains the family monopoly on Rip Curl Pro Search events, joining older brother Andy, who has two Rip Curl Pro Search titles (2006, 2007) under his belt already.
"My brother has won this event twice and all I could think about in the Final is how I wanted that trophy," Irons said. "The thing is sick! It was a great event and we're going to have a huge party tonight!"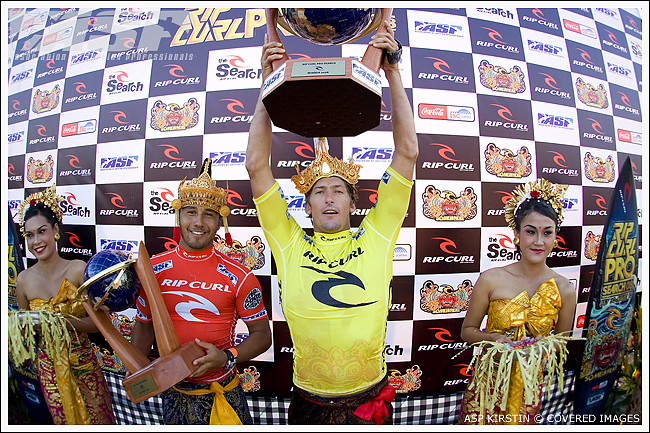 Patacchia was in stunning form all event, netting high scores and eliminating top seeds before coming up short in the Final.

"Bruce (Irons) and I are good friends but we were super competitive in that Final," Patacchia said. "Both of us wanted to win and we were hassling and trash-talking and everything. I had one wave at the start, but Bruce got two bombs towards the end and I could tell he was really gunning for it."

After suffering an injury early in the season, Patacchia has since rebounded, finishing equal 9th in Fiji and Jeffreys Bay before his runner-up finish 'somewhere' Indonesia. The stylish goofy-footer now sits at No. 14 on the ASP World Tour.

"It feels great to come back after a slow start to the year," Patacchia said. "The waves were so good for this event and I'm bummed I didn't win, but to have Bruce (Irons) there and since he's stepping away, it feels good that we kept the title within Hawaii."

Chris Ward (USA) was another who was in blazing form all day, eliminating former three-time ASP World Champion and two-time defending Rip Curl Pro winner (2006, 2007) Andy Irons (HAW) and 2007 ASP World Tour runner-up Taj Burrow (AUS) before coming up short against an in-form Irons.

"I'm not even bummed," Ward said. "If I had come out of that one barrel, then I would have been in the Final, but I've had a great day and a 3rd place finish really helps me this year. The next event is in my backyard, Lower Trestles, and I'm pretty confident out there. I'll be spending a lot of time preparing for that event, but first I am going to enjoy this magical island and all the beautiful waves it has to offer."

Tiago Pires (PRT), 2008 Dream Tour rookie, put in the best performance of his young career, dispatching of eight-time ASP World Champion and current ratings leader Kelly Slater (USA) in Round 3 before rampaging through to an equal 3rd place finish.

"This is the best result of my career and it takes the pressure off of me to get a 3rd at the halfway point this season," Pires said. "I don't know what it will do to the ratings, but it should help me and give me a better seed going into Lower Trestles. I have a pretty busy summer. I am doing all the ASP WQS events in Europe so it is a lot of surfing for me coming up."

All Rip Curl Pro Search videos, photos and news are available via http://live.ripcurl.com/

With the early elimination of the majority of top seeds on the Dream Tour, current ratings leader Kelly Slater (USA) maintains a healthy lead on this year's ASP World Title race.

The next stop on the 2008 ASP World Tour will be the Boost Mobile Pro pres. by Hurley at Lower Trestles, California from September 7 – 13, 2008.

RIP CURL PRO SEARCH FINAL RESULTS
1 – Bruce Irons (HAW) 17.66
2 – Fredrick Patacchia (HAW) 11.16

RIP CURL PRO SEARCH SEMIFINAL RESULTS
SF 1: Fredrick Patacchia (HAW) 10.16 def. Tiago Pires (PRT) 8.50
SF 2: Bruce Irons (HAW) 13.70 def. Chris Ward (USA) 13.50

RIP CURL PRO SEARCH QUARTERFINAL RESULTS
QF 1: Fredrick Patacchia (HAW) 16.50 def. Kai Otton (AUS) 14.17
QF 2: Tiago Pires (PRT) 12.00 def. Kieren Perrow (AUS) 11.34
QF 3: Bruce Irons (HAW) 19.40 def. Ben Dunn (AUS) 9.67
QF 4: Chris Ward (USA) 16.34 def. Taj Burrow (AUS) 13.90

RIP CURL PRO SEARCH ROUND 4 RESULTS
Heat 1: Kai Otton (AUS) 11.67 def. Bede Durbidge (AUS) 10.67
Heat 2: Fredrick Patacchia (HAW) 19.50 def. Joel Parkinson (AUS) 18.40
Heat 3: Kieren Perrow (AUS) 10.00 def. Bobby Martinez (USA) 6.30
Heat 4: Tiago Pires (PRT) 13.77 def. Dayyan Neve (AUS) 5.06
Heat 5: Bruce Irons (HAW) 10.84 def. Mick Fanning (AUS) 10.83
Heat 6: Ben Dunn (AUS) 15.97 def. Mikael Picon (FRA) 12.37
Heat 7: Taj Burrow (AUS) 12.43 def. Dean Morrison (AUS) 11.83
Heat 8: Chris Ward (USA) 18.17 def. Andy Irons (HAW) 11.33

CURRENT ASP WORLD TOUR TOP 10 AFTER STOP NO. 6
1 – Kelly Slater (USA) 5620 points
2 – Joel Parkinson (AUS) 4548 points
3 – Bede Durbidge (AUS) 4382 points
4 – Taj Burrow (AUS) 4370 points
5 – Mick Fanning (AUS) 4353 points
6 – Adriano de Souza (BRA) 3950 points
7 – Andy Irons (HAW) 3938 points
8 – C.J. Hobgood (USA) 3870 points
9 – Bobby Martinez (USA) 3628 points
10 – Bruce Irons (HAW) 3392 points

For more information, log onto www.aspworldtour.com