Sofia Mulanovich Wins Roxy Pro Gold Coast!
Saturday, Mar. 1, 2008 • Peruvian, Sofia Mulanovich won the 2008 Roxy Pro Gold Coast Surf Contest presented by LG, out surfing Australian Samantha Cornish in fun three foot waves at Snapper Rocks.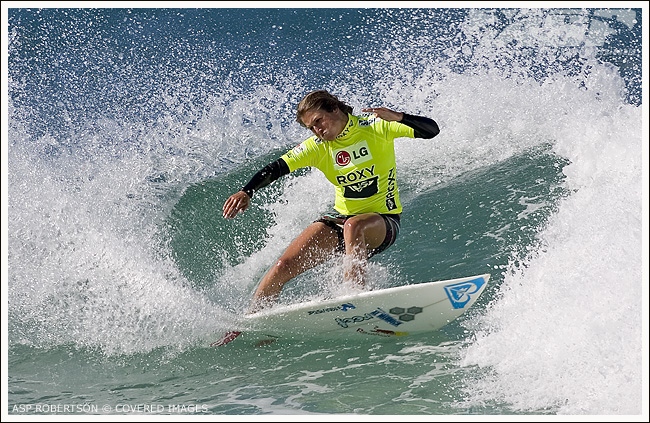 Sofia Mulanovich (Peru) winning the Roxy Pro at Snapper Rocks on the Gold Coast in Queensland Australia today. Sofia defeated Australian Samantha Cornish comprehensively in the final with final wave tally, based on each surfers top two scoring rides, Mulanovich 17.34 to Cornish on 7.84. Photo ASP Tostee
The opening competition of the 2008 ASP Women's World Tour season ran through the Final today with major upsets and inspiring performances enthralling the hundreds on the beach and thousands watching online.
Mulanovich, 2004 ASP Women's World Champion and world runner-up last season, was in sensational form today, netting the day's highest heat total of a 17.34 out of a possible 20 to combo Cornish in the Final.
"The final started out kind of slow, but I got a good score midway and from then on, I started pushing my surfing out there," Mulanovich said. "My board felt really good out there and I when I caught that last wave, I knew that Sam (Cornish) was going to need a lot to catch me. So stoked."
The Peruvian had yet to procure a solid result at the Roxy Pro Gold Coast in past seasons, but her victory today puts Mulanovich at the top of the ratings in the race for the 2008 ASP Women's World Title.
"So stoked to finally get a good result here," Mulanovich said. "I love the wave at Snapper, but until today, I hadn't been able to get a result. It's a long season and I am off to a good start, but there are still so many good girls out there. Steph (Gilmore) and Layne (Beachley) and so many others. Samantha today surfed so well and I know she's hungry for a win."
Cornish, who finished No. 4 on the ASP Women's World Tour last season, was in devastating form today netting solid scores in the three rounds leading up to the final. Although the young Australian's conditioning held steady, the waves did not deliver for her in the Final.
"We've surfed four times today, but I didn't feel too tired out there, I just couldn't get the waves that linked through," Cornish said. "Congrats to Sofia (Mulanovich) though as she was ripping. I'm a bit bummed that I couldn't see it all the way through today, but I'm still happy with my performance here."
Carissa Moore (HAW), who won the Roxy Pro Trials and was runner-up at this event last season, dazzled throughout the day, blending full-rail carves with new school tail slides to take down reigning ASP Women's World Champion Stephanie Gilmore (AUS) and fellow islander Melanie Bartels (HAW) before going down to Cornish.
"This was my first time ever surfing against Steph (Gilmore) and she has absolutely been ripping," Moore said. "It see-sawed back and forth in that heat, but I ended up getting that one at the end that was really exciting. I am a bit disappointed that I couldn't do as well as I did last season, but Sam (Cornish) was on point and got the better waves. It has been a great experience for me and I'm really thankful for the opportunity to compete here again this year."
Amee Donohoe (AUS), who finished No. 6 on the ASP Women's World Tour in 2007, was in sterling form all day, eliminating Jacqueline Silva (BRA) and Julia De La Rosa Toro (PER) (formerly Julia Christian (USA)) before going down to Mulanovich in the Semifinals. Donohoe collects an equal 3rd place finish and solid positioning on this season's ratings.
"Starting the season with a 3rd is great, although I'm a bit bummed that I couldn't get the waves in the Semifinal against Sofia (Mulanovich)," Donohoe said. "Pretty stoked with my performance here and I'll be focusing on keeping the momentum up at Bells Beach."
The next stop on the 2008 ASP Women's World Tour will be the Rip Curl Pro at Bells Beach from Mar. 19-24, 2008.
Highlights from the 2008 Roxy Pro Gold Coast pres. by LG will be available via www.aspworldtour.com/roxypro
Roxy Pro Gold Coast Video and Photo's
The Quiksilver Pro Gold Coast pres. by LG has completed the opening two rounds of competition and with swell forecasted to come in over the next few days, the ASP Top 45 could be back in the water very soon. The Quiksilver Pro pres. by LG will be webcast live via www.aspworldtour.com/quikpro
Roxy Pro Gold Coast pres. by LG Results
Roxy Pro Gold Coast Final
1 – Sofia Mulanovich (PER) 17.34
2 – Samantha Cornish (AUS) 7.83
Roxy Pro Gold Coast Semifinals: 1st advances to Final; 2nd finishes Equal 3rd
SF 1: Samantha Cornish (AUS) 16.90 def. Carissa Moore (HAW) 15.53
SF 2: Sofia Mulanovich (PER) 13.50 def. Amee Donohoe (AUS) 10.33
Roxy Pro Gold Coast Quarterfinals: 1st advances to Semifinals; 2nd finishes Equal 5th
QF 1: Samantha Cornish (AUS) 15.60 def. Layne Beachley (AUS) 12.00
QF 2: Carissa Moore (HAW) 17.57 def. Melanie Bartels (HAW) 9.07
QF 3: Sofia Mulanovich (PER) 13.16 def. Rebecca Woods (AUS) 7.10
QF 4: Amee Donohoe (AUS) 10.73 def. Julia De La Rosa Toro (PER) 10.33
Roxy Pro Gold Coast Round 3: 1st advances to Quarterfinals; 2nd finishes Equal 9th
Heat 1: Samantha Cornish (AUS) 14.50 def. Nicola Atherton (AUS) 8.30
Heat 2: Layne Beachley (AUS) 12.67 def. Serena Brooke (AUS) 11.66
Heat 3: Melanie Bartels (HAW) 14.40 def. Megan Abubo (HAW) 12.23
Heat 4: Carissa Moore (HAW) 15.33, def. Stephanie Gilmore (AUS) 14.50
Heat 5: Sofia Mulanovich (PER) 15.50 def. Claire Bevilacqua (AUS) 12.16
Heat 6: Rebecca Woods (AUS) 11.50 def. Rosanne Hodge (ZAF) 9.83
Heat 7: Amee Donohoe (AUS) 14.90 def. Jacqueline Silva (BRA) 10.80
Heat 8: Julia De La Rosa Toro (PER) 12.33 def. Silvana Lima (BRA) 7.83
2008 ASP Women's World Tour Ratings after the Roxy Pro Gold Coast pres. by LG
1. Sofia Mulanovich (PER) 1200 points
2. Samantha Cornish (AUS) 972 points
3. Amee Donohoe (AUS) 756 points
4. Layne Beachley (AUS) 552 points
4. Rebecca Woods (AUS) 552 points
4. Melanie Bartels (HAW) 552 points
4. Julia de la Rosa Toro (PER) 552 points
8. Stephanie Gilmore (AUS) 360 points
8. Silvana Lima (BRA) 360 points
8. Megan Abubo (HAW) 360 points
8. Rosanne Hodge (ZAF ) 360 points
8. Jacqueline Silva (BRA) 360 points
8. Serena Brooke (AUS) 360 points
8. Nicola Atherton (AUS) 360 points
8. Claire Bevilacqua (AUS) 360 points
16. Jessi Miley-Dyer (AUS) 180 points
16. Melanie Redman-Carr (AUS) 180 points
16. Karina Petroni (USA) 180 points