Header

By Press Release

ASSOCIATION OF SURFING PROFESSIONALS (ASP) NORTH AMERICA

HONDA MEN'S U.S. OPEN OF SURFINGASP WQS SIX-STAR
Huntington Beach, CA
July 21-30, 2006
ROB MACHADO REIGNS SUPREME AT HONDA U.S. OPEN OF SURFING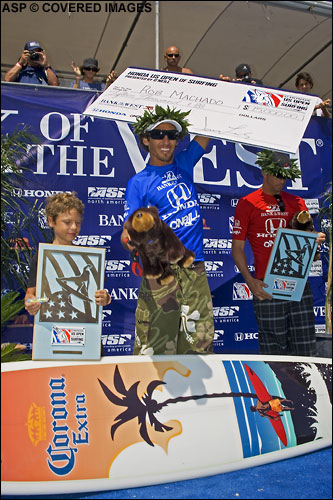 Rob Machado Picture Credit ASP Tostee
HUNTINGTON BEACH , Calif. (Sunday, July 30, 2006)Former two-time event champion and last year's runner-up Rob Machado (Cardiff, CA) re-asserted his U.S. Open of Surfing supremacy today winning his third title in front of thousands at Huntington Beach.
"I will never get tired of coming here," Machado said. "The crowd down here has been so amazing all week. The energy that was out there in the final was unbelievable. I lost a close final to Andy Irons here last year and that was hard to swallow, so this feels fantastic."
Muscling out Roy Powers (Hanalei, HI) in the six-star ASP World Qualifying Series (WQS) event, the Honda U.S. Open of Surfing presented by O'Neill, former world No. 2 Machado now finds himself in the WQS top-50 despite having only surfed a handful of events in 2006.
"I've only surfed three contests this year but I'm heading to Europe to compete in a couple of events there which should be fun because I haven't surfed there in years," Machado, who is semi-retired from competitive surfing, said. "I guess I'll just see where I'm sitting on the ratings (WQS) after that and take it from there."
Incidentally, Machado has won two of the three events he's surfed in 2006today's proceedings, as well as a four-star competition at Pipeline (Hawaii)and now appears quite capable of qualifying for the Foster's ASP Men's World Tour should he be so inclined.
Powers, current no. 41 on the Foster's ASP Men's World Tour, needed just an average wave score of a 6.33 to change today's outcome.
"Rob is a machine and can get the scores on any wave he goes on," Powers said. "I could have applied a bit more pressure, but I wanted to win honorably and I came really closeall I needed was one more score."
Powers' runner-up finish finds him rocketing from 86th to 26th on the WQS ratings, a move that will no doubt aid the young Hawaiian in his quest to re-qualify for the Foster's ASP Men's World Tour.
"I need this," Powers, currently struggling in his World Tour rookie season, said. "My rookie season hasn't been going so well. Hopefully this momentum goes my way in the upcoming qualifying events and maybe even on the World Tour."
Mike Losness (San Clemente, CA) punctuated his best ASP event to date with a third-place finish at the Honda U.S. Open. The flexible goofy-footer surfed incredibly well all event before succumbing to boyhood-hero Machado.
"A few rounds ago I was happy, so I'm just ecstatic now," Losness said of his finish. "I don't feel bad that I lost in that heat, there's something to be said about drawing really good guys in your heats because those are the guys you want to beat and those are the heats you want to surf."
Losness has concentrated on endeavors outside the competitive realm in recent years, but today's success may well inspire the 25-year-old to focus on elite-tour qualification.
"This was really big for me because I don't do the WQSI do some of the events but I want to do more next year," Losness said. "Having a result like this will really put me up in the standings, so when I travel around the world to compete, I won't have to surf through the trials to get into the events. I've actually just entered a five-star in Portugal at the end of the month so who knows what will happen this year."
Jeremy Flores (Reunion Island), 18, surfed brilliantly all week but failed to advance past Powers in the semifinals. Competing in his first event ever in Huntington Beach, his third-place finish rockets him to fifth on the WQS ratings and puts him in excellent position to qualify for next year's elite tour.
"I'm pretty youngI just turned 18 two months ago so I have no pressure to qualify for the World Tour," Flores said. "I have a lot of time ahead of me. I'll be stoked if I qualify this year but if I don't I'm sure I will within a few years. I'm dedicating this year to surfing contests so we'll see how it goes."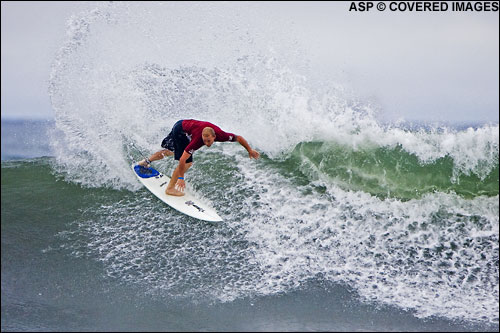 Michael Campbell Picture Credit ASP Tostee
Michael Campbell (Port Macquarie, AUS) was on fire this morning securing the only perfect 10-point ride of the event before coming up short against Losness. His equal fifth-placing today bolsters his rating to 11th on the WQS.
Many ASP World Qualifying Series campaigners will go directly from Huntington to Japan and England for high-rated events commencing tomorrow.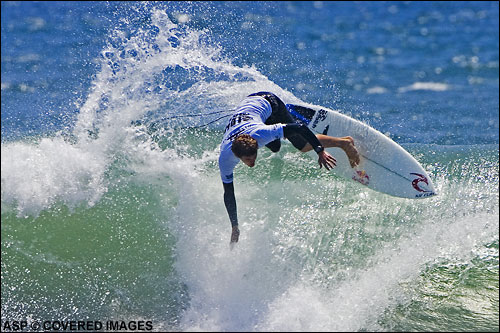 Ben Dunn Picture Credit ASP Tostee
The Lost Pro Junior, an ASP $10,000 grade-two event, saw Ben Dunn (Old Bar, AUS) tear through the final this afternoon. Dunn, who's done extremely well in the junior series this year, is also enjoying immense success on the WQS and at an elite-level having surfed as a wildcard in three of six events on the Foster's Men's World Tour this year.
"My main focus has been the WQS this year and the juniors have been a little side thing that I've used to get some heat practice out of," Dunn, 20, said. "Although this is my last year on the ASP Pro Juniors (only surfers 20 and under are eligible) so I certainly want to do well. Even if I qualify for the World Tour in 2007, I'll still be competing in the World Junior Championships in January."
The O'Neill U.S. Open of Longboarding title went local surfer Dodger Kremel (Huntington Beach, CA). Kremel secured an 18.60 out of a possible 20, leaving his opponents needing a combination of scores. The victory over former ASP World Champions Joel Tudor (Cardiff, CA) and Colin McPhillips (San Clemente, CA) elicited a massive response from the hometown crowd.
"I don't even know what to say," Kremel said of the emotional win. "Colin got that really good wave and I knew I had to try to get a good one too. I'm just so stoked all my friends and family came and this is sick. My dad couldn't be here because he just passed away but all of this is for him."
The next item on the ASP North America agenda is the Oakley Pro Junior presented by Heritage Surf and Sport in Ocean City, New Jersey on August 5 & 6, 2006.
For more information, log onto www.usopenofsurfing.com, www.aspnorthamerica.org or www.aspworldtour.com.
RESULTS DAY FOUR:
HONDA U.S. OPEN OF SURFING PRES. BY O'NEILL FINAL RESULTS:
MEN'S HONDA U.S. OPEN OF SURFING PRES. BY O'NEILLASP $125,000 WQS SIX-STAR
Final Results: (1st wins the event and earns US$15,000; 2nd finishes runner-up and earns US$7,500)
Final: Rob Machado (USA) 13.83 def. Roy Powers (HAW) 11.20
Semifinal Results: (1st advances to the Finals; 2nd finishes equal 3rd and earns US$3,750)
Semifinal 1: Roy Powers (HAW) 14.34 def. Jeremy Flores (REU) 11.33
Semifinal 2: Rob Machado (USA) 14.07 def. Mike Losness (USA) 13.50
Quarterfinal Results: (1st advances to the Semifinals; 2nd finishes equal 5th and earns US$2,000)
Heat 1: Roy Powers (HAW) 11.33 def. Tanio Barreto (BRA) 7.67
Heat 2: Jeremy Flores (REU) 9.90 def. Bobby Martinez (USA) 8.10
Heat 3: Rob Machado (USA) 15.17 def. Josh Kerr (AUS) 14.67
Heat 4: Mike Losness (USA) 14.00 def. Michael Campbell (AUS) 9.83
Round Six Results: (1st and 2nd advance to the Quarterfinals; 3rd finishes equal 9th and earns US$1,500)
Heat 1: Roy Powers (HAW) 16.33, Bobby Martinez (USA) 13.33, Mason Ho (HAW) 7.76
Heat 2: Jeremy Flores (REU) 11.20, Tanio Barreto (BRA) 10.27, Victor Ribas (BRA) 6.50
Heat 3: Rob Machado (USA) 13.33, Mike Losness (USA) 7.00, Luke Munro (AUS) 5.60
Heat 4: Michael Campbell (AUS) 14.90, Josh Kerr (AUS) 11.10, Tim Curran (USA) 10.53
LOST PRO JUNIORASP $10,000 GRADE TWO
1st: Ben Dunn (AUS) 16.00; earned US$2,500
2nd: Tory Meister (HAW) 16.00; earned US$1,500
3rd: James Woods (AUS) 13.17; earned US$1,100
4th: Nick Rozsa (USA) 11.00; earned US$900
O'NEILL U.S. OPEN OF LONGBOARDING
1st: Dodger Kremel (USA) 18.60
2nd: Colin McPhillips (HAW) 15.13
3rd: Taylor Jensen (AUS) 13.90
4th: Joel Tudor (USA) 13.57